Merit Scholarships
Temple awards merit scholarships to international students with strong academic records. These scholarships range from $2,000 to full tuition. The availability of funding and the size, quality and characteristics of the overall applicant pool will determine the number and value of merit scholarships offered. Please note full-tuition scholarships are extremely competitive.
Students are automatically considered for merit scholarships upon applying to Temple—a separate application is not needed. Submit your application for admission and all supporting documents by the application deadlines. We strongly encourage students to apply early in order to have the best chance to receive a merit award.
#WhyUS Campaign and Scholarship
Temple has introduced the #WhyUS campaign and scholarships to help ensure all international students know that the U.S. is one of the most desirable places in the world to study.
These scholarships, which range from $2,000 to $10,000 for up to four consecutive years (four years for first-year students and two years for transfer students), will be awarded for the best responses to our creative prompt. Winners will be chosen independent of a prospective student's academic performance, and scholarships can be combined with other awards already received. Scholarship winners will be announced by April 1.
#YouAreWelcomeHere Campaign and Scholarship
In 2016, Temple pioneered a nationwide welcome message from U.S. higher education to international students around the world. Through the #YouAreWelcomeHere scholarship, Temple recognizes international students who demonstrate a vision for enhancing intercultural understanding. Temple was one of the first nine universities to make an initial commitment to the #YouAreWelcomeHere initiative. Every year, we select two first-year students to receive an annual, renewable scholarship of $20,000. Scholarship winners will be announced by April 1.
To check on the status of your admissions and scholarship decision, check TUportal, or contact us at YAWH@temple.edu or +1-215-204-4900.
Learn more about one of our first recipients.
In 2019, Ayna Mammedova of Turkmenistan and Andres Mondragon of Peru became the inaugural recipients of Temple's #YouAreWelcomeHere scholarship.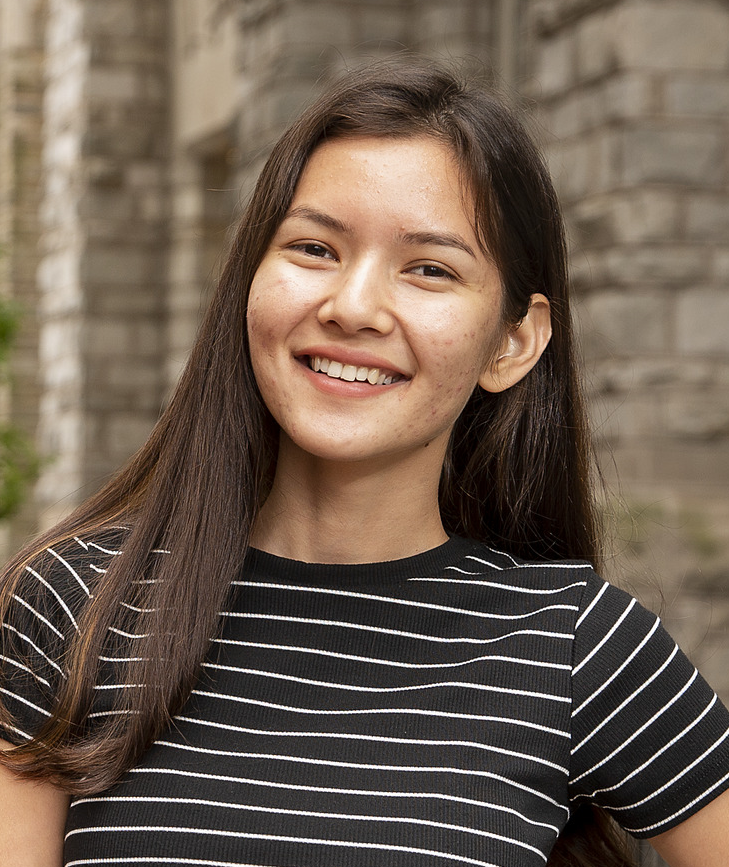 Ayna Mammedova
Biochemistry Major, College of Science and Technology
"Before applying, I watched a lot of videos about #YouAreWelcomeHere. I was a bit nervous about the application process. Now, I am calm and confident. I know Temple is welcoming me. The university is so kind with its international students—and I am proud to be one of them."
Learn More About Ayna
Broad Street Finish Line Scholarship
The Broad Street Finish Line Scholarship supports first-generation college students and helps them stay on track financially to graduate in four years. It's awarded annually in increments of $500 to $5,000, depending on need.
Incoming undergraduate students are automatically considered for the Broad Street Finish Line Grant at the time of admission.
CAP Advantage Scholarship
CAP advantage Program (CAP) scholarships are available to the first 30 students who commit to CAP for Fall 2023. The selected students will receive this one-time scholarship once they complete CAP 3, the highest level of the program and matriculate as a full-time student at Temple University.
Sister City Scholarships
If you are a first-year applicant from one of Philadelphia's Sister Cities, Temple University welcomes you to apply for this special scholarship opportunity. These are scholarships of $10,000 per academic year for four years. Click below to learn more about qualifying sister cities, eligibility and to apply.
Scholarship winners will be announced by April 1.
Philadelphia's Sister Cities
Abruzzo, Italy
Aix-en-Provence, France
Douala, Cameroon
Florence, Italy
Frankfurt am Main, Germany
Incheon, Korea
Kobe, Japan
Nizhny Novgorod, Russia
Tel Aviv-Yafo, Israel
Tianjin, China
Toruń, Poland